DiscountFlights.com is a travel search engine based in San Francisco. It operates 120 international sites in more than 40 languages and local currencies.
Skyscanner has been DiscountFlights' exclusive flight provider for over three years. Our API powers their search results and drives meaningful traffic to our 1,200+ airline and online travel agency (OTA) partners across the globe.
A search results page on DiscountFlights.com, which is powered by Skyscanner.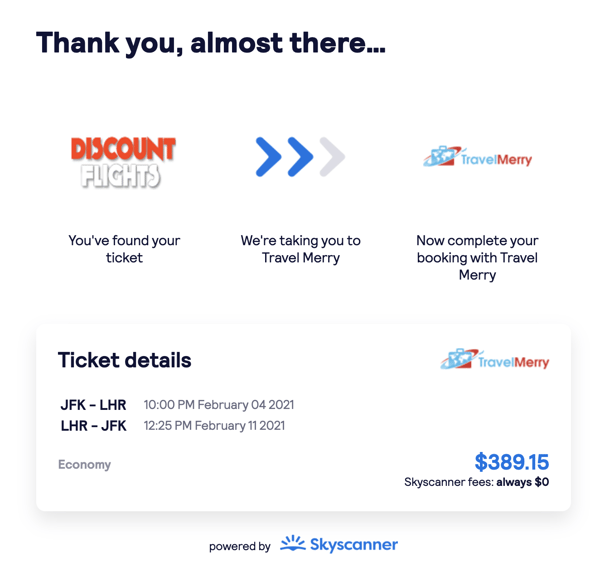 A page taking a user through to book with one of our partners.
We chatted to founder and CEO Drago Maximov about the business' journey, its relationship with Skyscanner, and what the future looks like.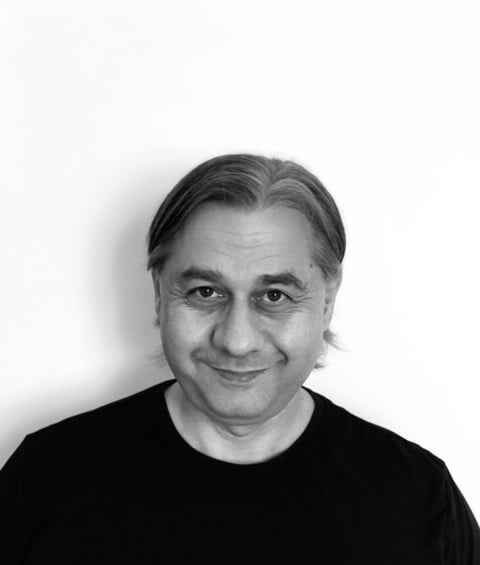 Q: When did you come up with the idea for DiscountFlights?
Almost two decades ago, I decided to invest all my $20k savings in the stock market because of the hype of making easy money as a day trader during the dot-com days. Unfortunately, in less than two weeks, I lost half of it.
I decided to take the other half and invest in premium travel domain names. DiscountFlights.com was one and, since I enjoy flying, I decided to build a portal to save people time when planning and booking travel.
Instead of searching multiple airline websites and online travel agents, users would only need to search on one site to see all available flight times and airfares. The site would also allow people to choose the most convenient flight, not just the cheapest.
Q: Tell us about your brand, what makes you stand out?
Firstly, the name is easy to remember. Secondly, the number of countries in which we're present and all the languages we're available in, as well as the huge number of airlines and OTAs that are available for travellers to compare and buy from.
Q: Why did you want to partner with Skyscanner?
We wanted a trustworthy vendor who was technologically apt, who would simultaneously represent both our partners and our customers. Skyscanner brings and connects all airlines, travel agents and partners like us, analyses the data, and distributes it fairly and efficiently.
This is no small feat for your engineering team, to organise and manage all the data that comes from your pipelines. We always wanted to work with the Skyscanner team.
Q: What's been your biggest success to date? How was this achieved?
I don't think we've achieved it yet. It's difficult to measure since everyone has a different understanding of what success is. Waking up every morning to see travellers looking for flights, reading their positive comments, and seeing them complete bookings after searching on DiscountFlights.com makes me feel motivated to improve and strive for the next level.
Furthermore, seeing our users share our content and website with their friends and family gives me a positive energy and satisfaction that we provide a service that's much needed and a huge benefit to travellers and travel businesses.
Q: What's the toughest part about running your own global travel website?
It always comes down to customer satisfaction. We're constantly monitoring hosting performance, evaluating our data, fixing any irregularities in our service. Then there's the all-import marketing and future planning.
That's what keeps me up at night – as I always strive not to disappoint any user and to serve their needs. But sometimes, there are issues that aren't within our control and we feel helpless. When that happens, it's always tough to see any one of our users not served satisfactorily.
Q: What does the future look like for DiscountFlights?
We'll look to the future with our fingers on the pulse of new technologies and the latest trends. This will help us achieve our goals of improving performance and user experience, as well as giving travellers the best choices.
Q: How has COVID-19 affected your business?
When COVID-19 hit, searches tanked and our revenue dropped by almost 90%. We're not a huge workforce so we didn't have to lose any staff, but we had to make some drastic marketing cuts. We know this will eventually pass and things will get back to normal.
In the meantime, we've built and launched our sister portal, www.BusinessFlights.com, which is also powered by Skyscanner. This will complement our online hotel reservations website, www.BusinessHotels.com, which has started accepting reservations.
Q: What excites you about the future of the travel industry? What can we be optimistic about?
People will always travel. Right after 9/11, travel stood at a standstill and people couldn't imagine getting on a plane again. But the travel industry rebounded in no time. Both commercial and leisure travel were back to their highest peaks after less than a year.
Similarly, once the pandemic is over and it's safe to travel again, people will be excited to do so, especially after being at home for so long. Everyone will want to be out – on a plane, on a beach, on a trip.
Q: Finally, tell us something interesting we might not know.
We believe space travel will be the next BIG thing so, you never know, we could always offer some discount flights.
We think it'll be GREAT.
Article originally published by Simon Hoskins at https://tinyurl.com/y6m932eo
On Discount Flights you'll find cheap flights and last minute hotel rooms for domestic and international travel.  Travelers can also search and book hotels with deeply discounted preferential rates, with lower prices anywhere online, including hotel metasearch engines, Trivago, TripAdvisor and Google Hotel Search.